Are you set to travel to Iceland but not sure which hotel is best or what each one has to offer?
Iceland is a popular destination where you can experience nature's breathtaking wonders. You'll find thundering waterfalls, black sand beaches, magnificent glaciers, and thrilling cliffs.
But that's not all.
Iceland offers a range of accommodation options to ensure you'll have an enjoyable stay even when you're not exploring. Whether you're looking for luxury or value, we've got you covered.
We've put together a list of the best and most loved Iceland hotels. Based on top user reviews and industry awards, these are the top-rated hotels in Iceland.
No matter which hotel you choose, you'll have access to a variety of modern amenities that are sure to provide comfort and luxury you'll remember for the rest of your life.
And let's not forget the whimsical charm you won't find anywhere else!
Luxury Hotel Vs. Boutique Hotel
Just like our preferences, hotels come in all varieties. Is your heart set on luxury or on a boutique hotel?
Luxury Hotel: Typically large, it provides luxurious stay, high-end services, and advanced facilities.
Boutique Hotel: Usually small, it comprises 10 to 100 rooms that provide a cozy, intimate atmosphere and personalized services.
Best Luxury Hotels in Iceland
Hotel
Strength
Details
The Retreat
5-star ultra-luxury experience

Soothing and attractive modern rooms and suites with panoramic views
Enclosed by the famous Blue Lagoon's geothermal, mineral-rich pools with views of the Atlantic ocean

Reykjavik Marina
High-end luxury experience, excellent city location for business travelers and families

Stylishly designed rooms
Gorgeous city, ocean, and mountain views
High-speed internet
Business-friendly
Moderately priced
Family-friendly

Hotel Husafell
Highly rated hotel for solo travelers

Heated pools
Excellent spot for watching the Northern Lights
Free bikes
Golf course
The Retreat at the Blue Lagoon Iceland
The Retreat is one of the most unique luxury hotels in all of Iceland. It's situated at the Blue Lagoon, the most sought-after and visited tourist attraction in Iceland.
The hotel features highly recommended restaurants, Spa, Moss, and Lava, which all provide fine dining of Iceland Haute cuisines and world-class wines.
Less than an hour's drive southwest of downtown Reykjavik, we've no doubt you'll love and never forget your stay here.
Amenities:
24-hr room service and in-room minibars
World-class retreat spa
Fitness center and lounge
Free WiFi
Skincare amenities
Icelandair Hotel Reykjavik Marina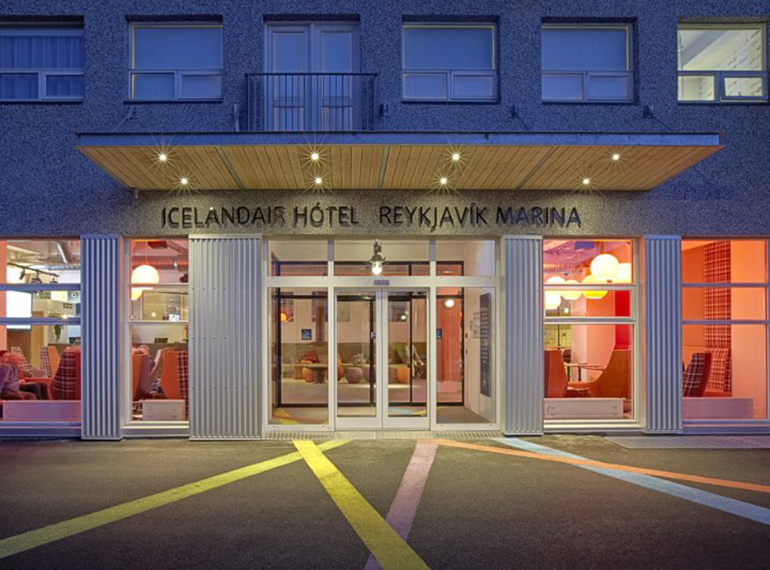 Boasting an Oyster Award as one of the most kid-friendly hotels in Iceland, Icelandair Hotel Reykjavik Marina is located in the harbor district, Reykjavik.
Its nautical-themed rooms and stunning views include a harbor and the city streets. Together, they create the perfect setup for guests to experience ultimate relaxation.
The hotel's central location puts you in close proximity to the airport and allows you to explore the city's attractions, including Iceland's National Museum and Gallery.
For food, the hotel's famous on-site restaurant, Kaffislippur, serves tasty cuisine.
Amenities:
Bar and lounge
Fitness center
Free WiFi in rooms
VIP room facilities
Free parking
Live music
Reykjavik Marina is a good choice for travelers looking for a mix of luxury with available business and family-oriented services in the city center.
Hotel Húsafell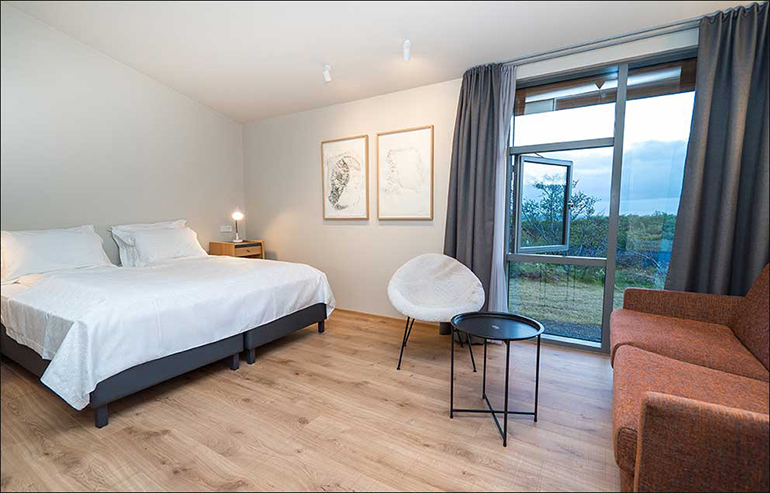 You'll love Hotel Husafell's breathtaking views and friendly, supportive staff.
Located in the village of Húsafell, the hotel neighbors unique wonders like the popular Langjokull glacier, Iceland nestled ice caves, mountains, and more. If you enjoy the wonders of nature, you can be sure your stay here will be unforgettable.
Hotel rooms range from standard to deluxe. They are modern and exquisite, providing you world-class comfort..
There is also a 24-hour front desk, garden, full-service bar, and restaurant offering both local and international dishes. The food can only be described in three words—mouth-watering, tasty, and delicious.
Amenities:
Family-friendly with comfy beds
Free WiFi
TV, minibar, and cable channels
Day trips/activities available for guests
Hot tubs
Golf-course, hiking, horse riding, and cycling
Free parking
Hotel Husafell is perfect for both solo travelers and families who wish to experience West Iceland at its best.
Best Boutique Hotels in Iceland
Hotel
Strength
Details
Canopy by Hilton Reykjavik
Highly personalized services

Central location
Artistic design and architecture with styled rooms and suites to provide comfort and pleasure
Free WiFi

Room with a View Apartments
Ideal for couples and families

Small studios to 5 bedroom apartments to cater for all guests
Business center with free WiFi
Spectacular views of city, mountains, and oceans

Hotel Borg
Best when traveling solo or for business

Close to top-rated attractions
Near Keflavik International Airport
Contemporary rooms
State-of-the-art facilities

Hótel Laxá
Budget-friendly prices

Beautifully decorated rooms and exceptional facilities
Unique views of river Luxa, Godafoss Waterfall, and Krafla Crater
Canopy by Hilton Reykjavik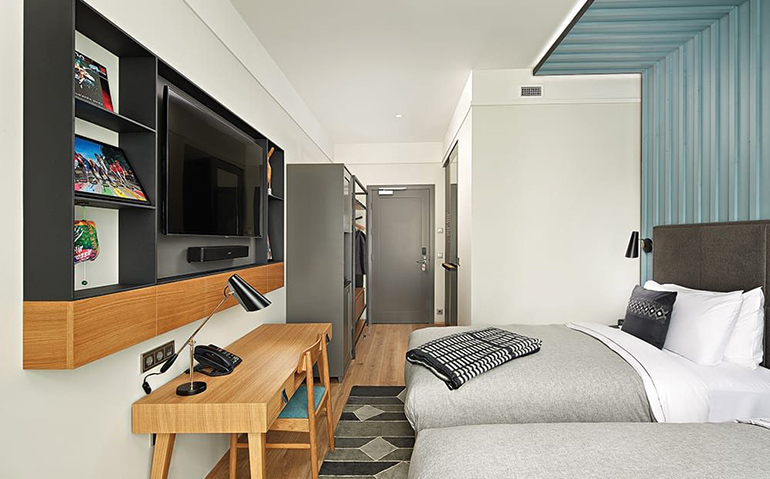 Rated as a traveler's choice by Tripadvisor, Canopy by Hilton is famous because of its great location in downtown Reykjavík.
The hotel offers the best of comforts and amenities under one roof and is only a short walk to the main shopping strip and Hallgrímskirkja Church.
The rooms are designed to impress with whimsical combinations of traditional and modern interior decor. There's free breakfast for all guests, with the restaurant serving fresh and delicious local and international meals.
Amenities:
Near the main shopping street
TV
Free WiFi
Hot springs
Minibar
24-hours fitness center
Best for travelers who need highly personalized services and close proximity to the city center, downtown Reykjavik.
Room with a View Apartments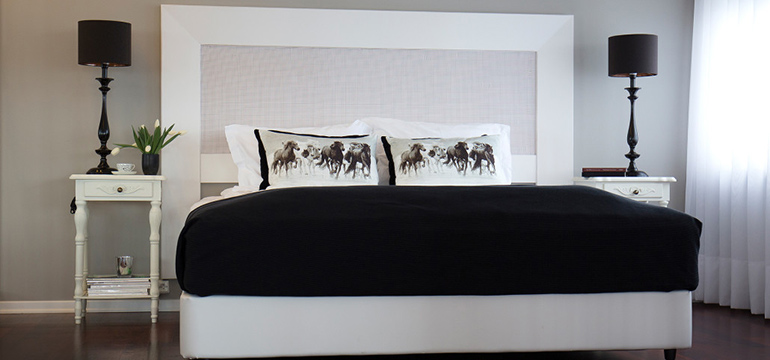 A home away from home, Room with a View Apartments is located in the center of Reykjavik, Iceland, and comes highly recommended.
There's a wide variety of room options to choose from—economy studios to 4 bedroom apartments. Souvenir shops, restaurants, and bars are close by.
You can be sure you'll enjoy your stay here.
Amenities:
Rooftop terrace and hot tub makes it ideal for young guests
Suitable for large families
Offers a view of the Northern Lights
Free WiFi
Kitchenettes in all rooms
Hot tub, steam room, and sauna
Shared sun-roof with a Jacuzzi
Room with a View Apartments is a suitable choice for large families and young travelers.
Hotel Borg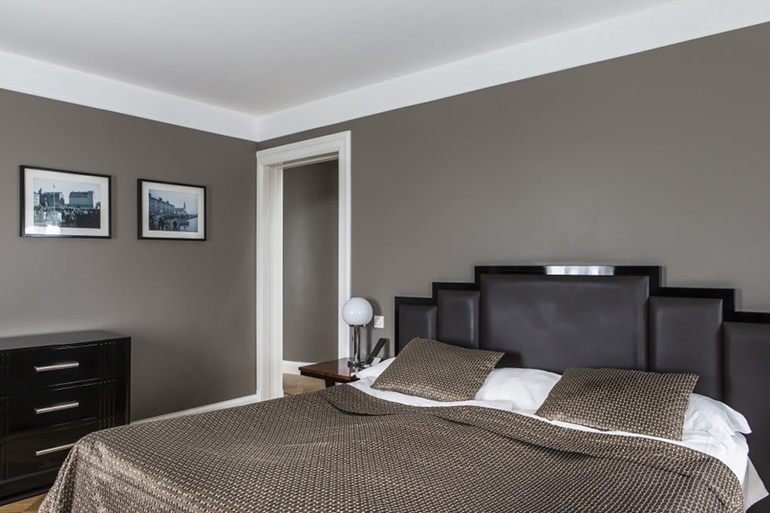 One of the best value hotels in Iceland, Hotel Borg neighbors Iceland's Austurvöllur park, parliament house, and the historical Hallgrímskirkja Church.
It offers beautiful rooms and modern amenities that make you feel at home.
It's close to attractions like Tjornin Lake, the Harbor, Harpa, and is within walking distance of various shops, restaurants, and cafes.
Amenities:
Meetings facilities
Guided tours
Free WiFi
Mini-fridges and Nespresso Machine
Walk-in shower and bathtub
Flat-screen TV
Small gym
Spa, steam bath, and sauna
This is a great choice for solo and business travelers.
Hótel Laxá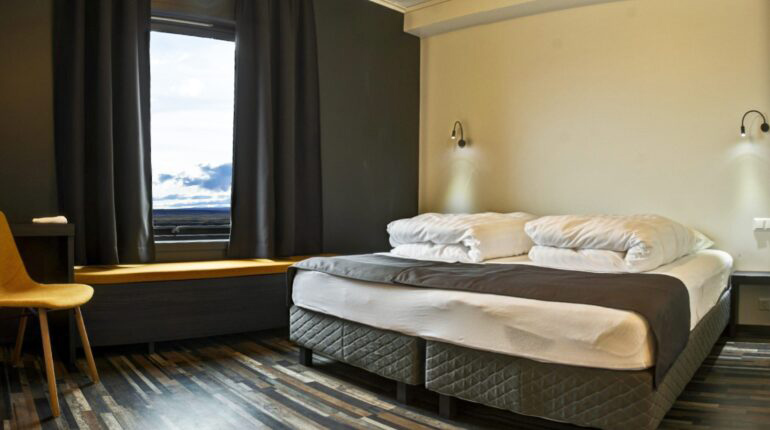 Situated only 22 kilometers from Lake Mývatn, Iceland's geological wonderland, Hótel Laxá won't disappoint.
You can relax in the trendy restaurant and bar, or enjoy the garden and terrace while surfing the web using the hotel's free WiFi.
Amenities:
Room service
Free WiFi
Flat-screen satellite TV
Sitting areas and electric kettles
Spa with sauna, hot tub, and steam room
Free toiletries
Hairdryer
An ideal choice if you're looking to immerse yourself in the region while enjoying world-class comfort and modern amenities at moderate prices.
Center Hotels in Iceland
We can't finish this list without talking about the exquisitely designed Center Hotels in Iceland for an authentic Icelandic experience.
A group of 8 family-run hotels, Center Hotels cover every part of Iceland's capital if you need an urban vibe. Here are the best two:
Center Hotel Plaza
Great city location

Stylish rooms with striking views
Ideal for business travelers and tourists

CenterHotel Thingholt
Strategic city location with customized guest services

Catchy room interiors
Popular among young couples and tourists
Modern amenities
Center Hotel Plaza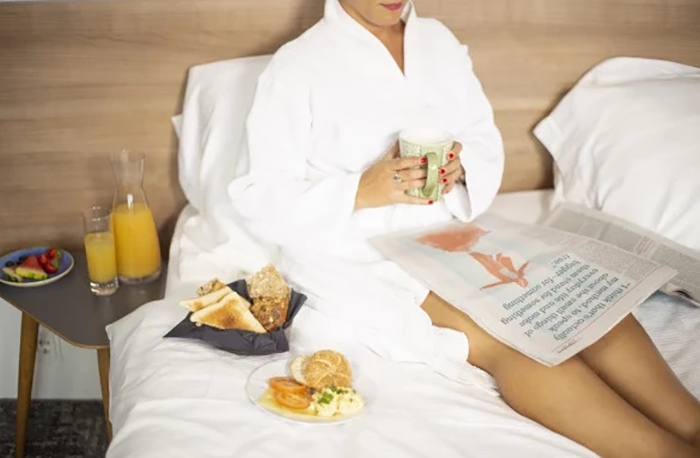 The Center Hotel Plaza is one of Iceland nestled hotels spread out of three separate adjoining buildings. The main building features large reflective windows and unique rooms.
Common areas include a lounge and a stylish lobby that hosts the hotel's bar for winding down.
Amenities:
Conferences and meeting rooms
Free WiFi
Well-stocked minibars
Tea and coffee facilities
Flat-screen TVs
Since it's centrally located, the hotel is suitable for city tourists, business travelers, and families.
CenterHotel Thingholt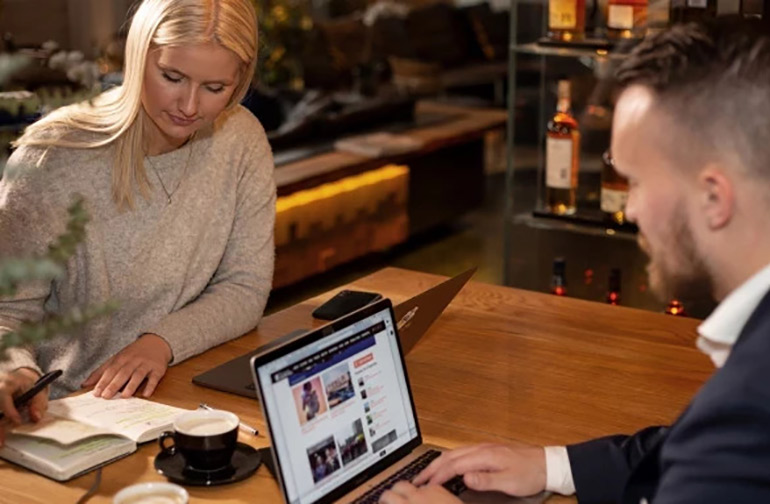 Featuring trendy and eye-catching interiors, CenterHotel Thingholt is popular among young couples and tourists.
Hotel rooms are modern and remarkably unique. The restaurants offer a mix of international cuisine and local Icelandic dishes. The staff is professional and cheerful, ready to provide you with customized services.
The famous Sun Voyager Sculpture, Hallgrimskirkja church, the Lagoon, Harpa Reykjavik Concert Hall, and the Airport are minutes away from the hotel.
Amenities:
Near major shopping streets and restaurants
Bar with a wine menu
Free WiFi
Free buffet breakfast
Best for tourists, business travelers, and young couples.
Don't Wait to Snag a Deal in Iceland Top Rated Hotels
There are great hotels in Iceland for every type of traveler. We hope that this list of suggested Iceland hotels has added to your excitement and made your planning easier.
Whether you are planning a vacation, business trip, or romantic getaway, each of these hotels will offer incredible and unforgettable comfort and experience.
For exploring, check out exciting things you can do in Iceland. We recommend planning your travel with the best tour companies in Iceland for the best possible deals and offers.
Happy Icelandic trip planning!
Featured Image from: Flickr by Shaherald Chia