Iceland is a dream destination for many among the most popular countries in Europe because of her inimitable splendor.
Every year, thousands of people flock to Iceland's breathtaking waterfalls, icy glaciers, snow-capped mountains, natural hot springs, and mystical ice caves to catch a glimpse of some of nature's best kept secrets.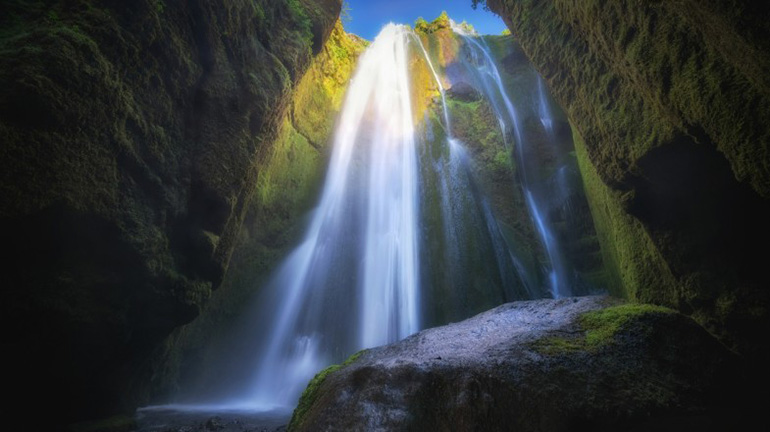 And if treasures on land fall short of satisfying your thirst for nature's beauty, you could still head to the sea coast and catch a memory-etching glimpse of whales—the ocean's gentle giants.
The shy, 9-meter Minke whales are the most common whale sighting in iceland. You can spot them from almost any whale watching port in Iceland, even in the capital Reykjavík. But Humpback whales, their attention-seeking counterparts, are no less common.
Then there are the Northern lights.
From antiquity, man has been a star-gazer. Depending on the time of visit, you can't find a better place to see the dancing polar lights than in Iceland.
Yet timing is everything.
Especially if you want to have an unforgettable best bang-for-the-buck experience.That's the reason we want to reveal to you the best time for visiting this beauty-packed, small island nation, and on a non bank-breaking budget.
Let's delve in.
Iceland Is Not Very Cheap
Unless you're Jay Z or Benard Arnault, chances are you live your life on a tight budget. Yet Iceland needs superior budgeting skills.
Even though cheap or expensive is ultimately in the eye of the beholder, a trip to Iceland is not the same thing as a trip to Bulgaria.
A 2020 country-rankings by Numbeo, the world's largest cost of living database, placed Iceland as the third most expensive country to live in on the globe.
The ranking used such metrics as the cost of accommodation, transport, food, rent, and internet.
To put this in a relatable perspective, New York is notoriously expensive. Yet Reykjavík, the capital of Iceland, is still more expensive than New York.

That's why you'll appreciate these cost-saving suggestions. Leisure is not leisure if you have to constantly fret about the gaping hole in your pocket.
The Most Expensive Time To Visit Iceland
This should be your first money-saving step: to identify the most expensive time to visit Iceland and to schedule your visit in a way that makes you avoid that period.
June till August is consistently the most expensive period to visit Iceland. The reasons are obvious—a more tolerable climate during the summer months, and the onset of school holidays.
Yet there's also the irresistible allure of the midnight sun that blazes through Iceland's skyline every summertime for, in some places, a full 24 hours every single day!
Since these are the most popular months, the law of supply and demand that you were taught in high school, inexorably set in. The higher the demand—the higher the price.
Therefore, your wallet will be happier if you avoid this time of the year.
The Cheapest Time To Soak In Iceland's Beauty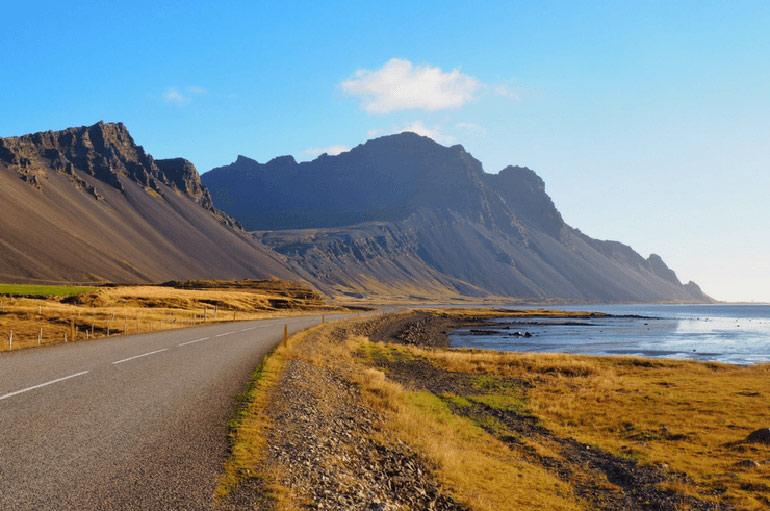 Since June to August is on-peak, any other time is off-peak and should be fine pocket-wise.
Still, you should avoid—guess which month—December.
And for obvious reasons as well. Santa Claus doesn't want your dollar bill to be inside your pocket.
Although Iceland is not pricey in December just because of Santa Claus. Iceland is known as a winter wonderland. So people flock— and prices skyrocket.
That leaves us with September to November and January to May. If you visit Iceland during these odd months, you'll be left all alone with the best of Iceland's natural beauty.
It's a win for your wallet and a win for an uncrowded experience.
So if you can't visit Iceland during the summer months, don't beat yourself up. This may not be the best time to visit Iceland after all.
There are many things you can see better when it's also cheaper.
The Best Time To See The Northern Lights In Iceland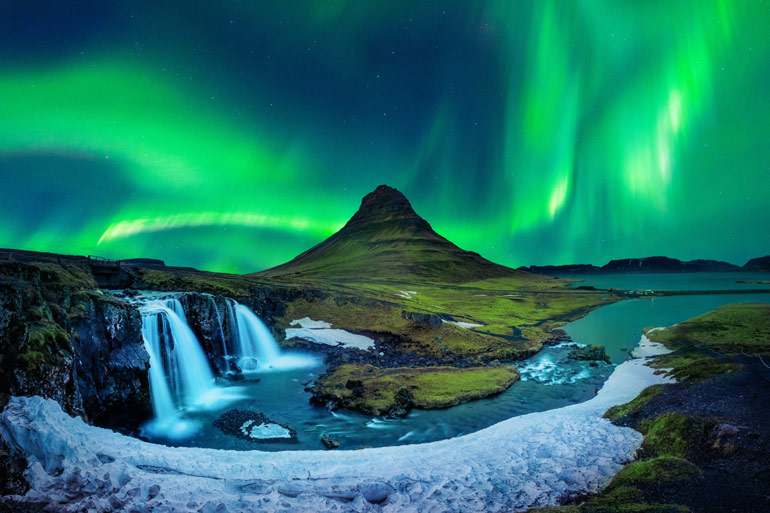 While visitors flock to Iceland because of the thrilling prospect of seeing the aurora borealis prancing gracefully through the coloured sky, the best time for this absolutely jaw-dropping vista is between September and April.
The good news is that these are also off-peak travel times, and hence—the cheapest times.
The best time to view this world-attracting spectacle is between 9:30 pm to 1:00 am. But you still can't bank on weather conditions favouring you. Not in Iceland, nor in many other countries either. So you still have to pray that the weather will think kindly of you.
Best Time To Glide Through Ice-Caves
So long as the word "ice" comes before the "caves", it's a no-brainer that these super-stunning natural features can only be true to their name in the cold, ice-forming months of winter.
These months run from somewhere in the middle of October to the end of March. Many operators wait until November before they can begin the cave tours.
Do you know what that means?
You'll certainly be making your trip in the off-season— which is the best time to visit Iceland if you want to save on money!
But which specific ice cave should top your priority list?
Even though there are many options, the impressive crystal-blue glacier ice-caves in Vatnajokull are, hands down, the bluest, the biggest and perhaps the most beautiful in all of Iceland.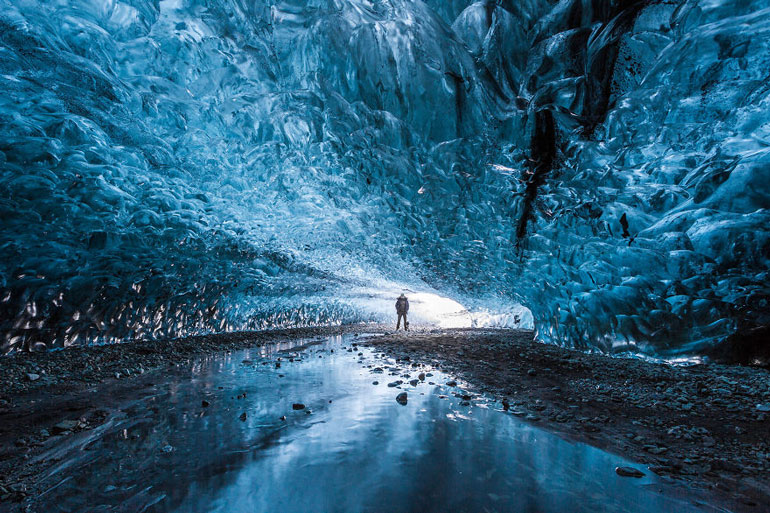 Best Time (For the Wallet) To See The Midnight Sun
If you're visiting Iceland in the summer, and you've heard about how the sun rises at 3.00 am and sets at midnight—if you don't want to miss this out-of-the-world experience—you're better off trying your luck in the shoulder season, especially early June.
During this time, schools aren't yet closed and it's on the fringe of the tourist season. Hence, tour operators have not yet hiked their prices to any significant degree.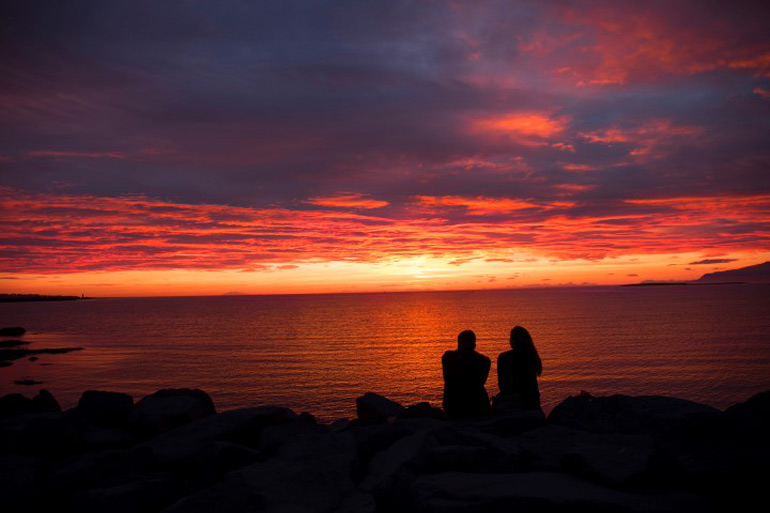 Time for the Cheapest Air Ticket To Iceland
The weather may be brutal, but the upside is that the cost will be far much gentler, if you visit Iceland in February or March, regardless of your home country.
Other Cost-Saving Tips
If you've gone through this, you may even argue that the best time to visit Iceland— to see her bubbling hot springs, her glistening waterfalls—or to have a nerve-calming road trip along her world-famous golden circle towards the beauty-rich south coast, is in the low season.
Regardless of the time at which you travel, whether in early July, Christmas, or New Year's Eve, you should consider these other cost-saving tips.
Beer can be costly in Iceland. While the cheapest option is to stay sober during your visit, you can also look out for the happy hours of Reykjavik's bars.
Travelling can be costly, especially along Ring-Road. You can choose to avoid road trips and be marooned in Reykjavik. You'll still enjoy the many city delights and even go for a whale watch.
Don't go for the Ritz Carlton's of Iceland. Instead, consider camping.
Choose a good but affordable tour company.
For the last point, have a look at some of the best Iceland tour companies.
Featured Image from: Flickr by Victor Montol