Iceland.
Home to so many sites that will make you say, "Wow."
Explore the full range of wonders from lava fields to a coastline with black sandy beaches, geothermal pools, glaciers, and one thing you don't want to miss; the Northern Lights.
Iceland is a breathtakingly magnificent country for backpackers, lovers, and travel enthusiasts. You've probably heard of the famous Blue Lagoon and the Golden Circle. Now you can't shake off the thought of travelling to Iceland to explore and buy a souvenir.
But the hotel rates you're seeing aren't favouring you.
Accommodation in Iceland, especially in the city centre, can be pricey. But that should not dim your hopes of experiencing its glamour.
Hostels in Iceland are cheaper compared to hotels. They also offer you an opportunity to interact with other travellers and have a wide range of facilities.
From as low as $20/night for a bunk bed in a dorm room to around $100/night for a private room in the fanciest hostel, you can always find a place within your budget.
And the best part?
You can stay for as long as you want.
We made this list of the best hostels in Iceland so you can spend less time looking for somewhere to stay and more time ticking things off your bucket list.
What is the Best Area to Stay in Iceland?
Most of the hostels in Iceland are located in Reykjavik, one of the world's favourite cities for travellers.
It's also easy to visit anywhere else from Reykjavik since both bus routes and airports are accessible throughout the city.
If you want to experience Icelandic culture in the museums or galleries, the nightlife and other attractions like the coastline and largest geothermal pool, consider a hostel in Reykjavik.
Alternatively, there are, of course, hostels you can stay in near the places you're visiting, such as the Blue Lagoon Hostel for those visiting the Blue Lagoon or the Héradsskólinn Guesthouse near the Golden Circle.
Best Hostels in Iceland
KEX Hostel
KEX is Icelandic for biscuits, a thoughtful name for a hostel housed in a former biscuit factory.
KEX Hostel has a contemporary touch with a vintage style. Think of salvaged vintage wall art, a heated outdoor patio, and a library, all combined in a vintage industrial style.
Located at the heart of Reykjavik, it's close to bars, museums, shops, Laugavegur shopping street, Harpa Concert Hall, and other attractions. Buy handmade souvenir items in boutiques, soak in a geothermal pool, or visit the museums around and learn Iceland's history.
Art lover? The National Gallery of Iceland is a few minutes away.
Transport to other places is seamless with Hlemmur, the main bus station, within walking distance.
KEX can host up to 215 people in dorms, single, double, and family rooms. They also have female-only dorms.
You can play board games, attend movie nights, and bond with other travellers in the common room.
Grab mouthwatering Icelandic dishes at their gastropub and local Viking beer or coffee at the open-plan bar. Feeling bored? Hire a bicycle from the hostel and go exploring.
Amenities
Meeting room
Laundry room
Guest kitchens
Free WiFi
Restaurant and bar
Lounge area
Loft HI Hostel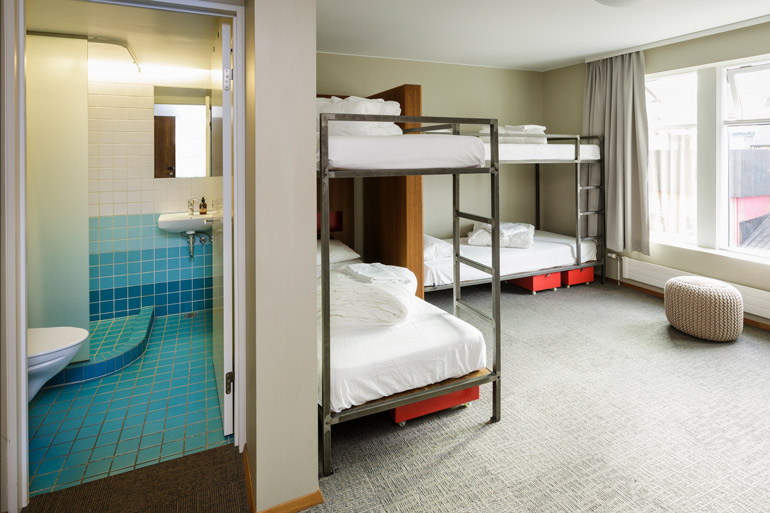 Loft HI Hostel is located in Reykjavik on the main shopping street.
The location makes the hostel close to most attractions and social areas. The Harpa Concert Hall, coffee shops, and bars are only a few minutes walk away.
While here, you can take part in free programs such as yoga, watercolour painting, music events, and other fun events
Join other travellers on the rooftop terrace in the hotel to grab local beers or watch Northern lights in winter. The rooftop offers a perfect view of the city.
Loft HI Hostel has an equipped kitchen so you can cook your meals and save money.
Hostel guests can choose private rooms or dormitories with shared bathrooms, or female-only dorms. There's free WiFi, free parking, and lockers and linen are provided. Just remember to carry a padlock or buy one at reception.
Amenities
Free linen
Shared kitchen
Rooftop terrace
Ensuite bathrooms and lockers
On-site bar
Reykjavik City HI Hostel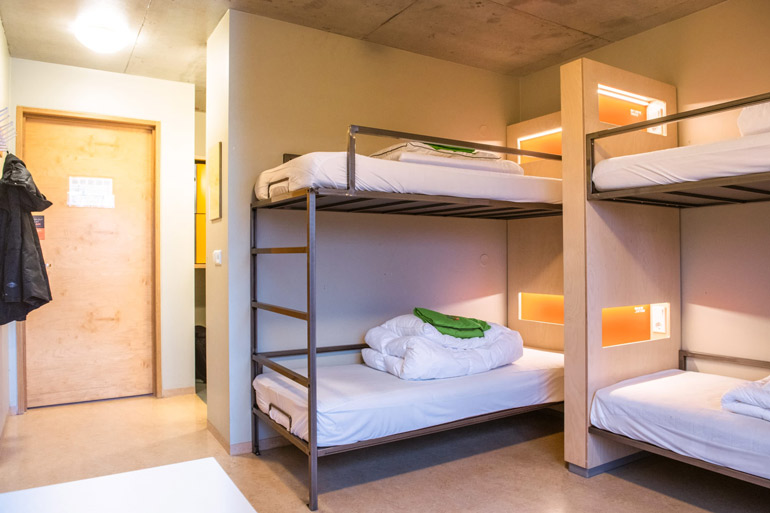 Reykjavik City HI Hostel is located in Laugardalur Park. Next to it is Iceland's largest thermal spa and pool, Laugardalslaug, and the national sports stadium.
Walk to the city centre along the magnificent coastline for 30 minutes or take a bus. The airport is 10 minutes away.
They offer female-only or mixed dorms and private rooms. The beds are comfy, have reading lights, and linens are included.
You can make your meals in the guest kitchen or grab something to eat in the City HI Hostel's cafe. Want to buy souvenirs? Check out the on-site souvenir shop.
The hostel organises trips and tours to the Blue Lagoon, Northern Lights, glaciers, Golden Circle, and hiking. Or, you can opt for Iceland tour companies.
If you're looking to interact with other guests, the lounge, coffee bar, garden, and patio are great places to meet and chat.
Amenities
Cafe
Souvenir shop
Common room
Garden and patio
Hostel-organized trips
Free WiFi
Galaxy Pod Hostel

Galaxy Pod Hostel is located about 10 minutes from the city centre.
Instead of the standard bunk beds, the hostel has sci-fi looking lockable pods. Various light settings make this accommodation even more out of this world.
The Galaxy Pod Hostel has two rooms accommodating ten people, one room for 12 people, a female-only room, and two couple rooms.
Every pod has a security box, a comfortable memory foam mattress, pillows, duvets, a power plug, an alarm clock, a wall mounted TV, headphones, and free WiFi.
The hostel is a few minutes from Laugardalur. There you will find a skating range, swimming pool, gym, tennis court, a zoo and even more.
And when you're hungry after the day's excitement, there are great restaurants and bars downtown.
Amenities
Free parking
Mounted TV in the pods
Free linen
Communal kitchen
Free WiFi
Akureyri HI Hostel
Akureyri HI Hostel is a family-owned hostel where guests can relax after tours around Iceland. It's a great hostel that boasts a friendly environment and unmatched hospitality.
It's located in Akureyri, famously known as Iceland's capital of the North. There's a lot to see here—from flourishing gardens, art galleries, museums, and a chance to see whales in Iceland's longest fjord, Eyjafjörður.
The hostel offers both dormitory rooms and private rooms. Beds have linen, pillows, duvets, and sheets.
Private rooms have a TV, clothes rack, reading light, and more. Dorm rooms are equipped with reading lights, a shelf near the bed, lockers, a clothes rack and luggage space.
Apart from the rooms, this hostel also has two cottages.
One cottage is a three-bedroomed bungalow that can host up to six people and is equipped with a kitchen, bathroom, living room, a hot tub and a seating area with a barbeque.
The other cottage is smaller and hosts two people. It has a private toilet and a communal kitchen and shower.
Amenities
Free parking
Free WiFi
Hot tub
Outside area with barbeque
Laundry service
Fully equipped kitchen
Héradsskólinn Guesthouse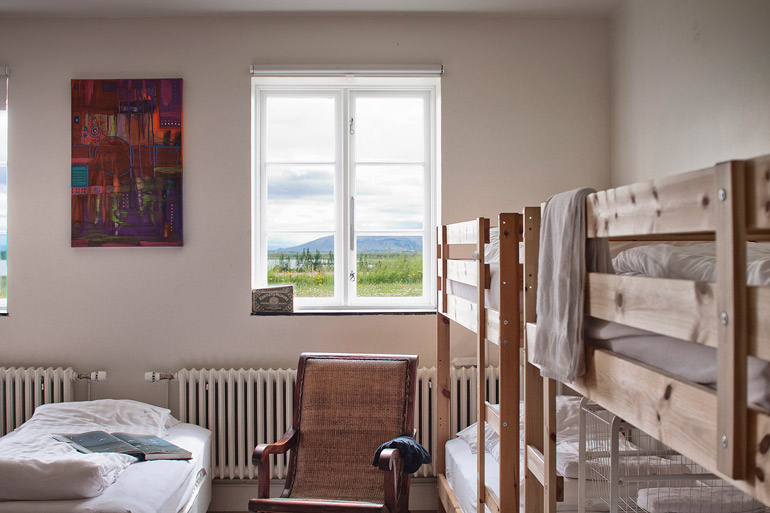 Located within the Golden Circle, Héradsskólinn Guesthouse is one of the great hostels in Iceland located outside Reykjavik.
It's an ideal hostel for visitors looking to explore attraction sites such as Hekla Volcano, Lake Laugarvatn, and Eyjafjallajökull Glacier.
Next to the hostel is the Laugarvatn Geothermal Bath, where you can soak and relax. The Gullfoss Waterfall, Geysir Hot Spring, and the Thingvellir National Park are only a few minutes away.
Héradsskólinn offers dorm rooms and private rooms with either private or shared bathrooms. If you prefer to have your meals there, they have a bistro where you can enjoy breakfast, lunch, and dinner.
While there, you can grab a book in the library, have a drink at the bar, or join other guests at the pool table or in the TV lounge.
Amenities
Free WiFi
Bistro
Wheelchair-accessible
Pool table
Common room
On a Budget? Stay in one of these Hostels in Iceland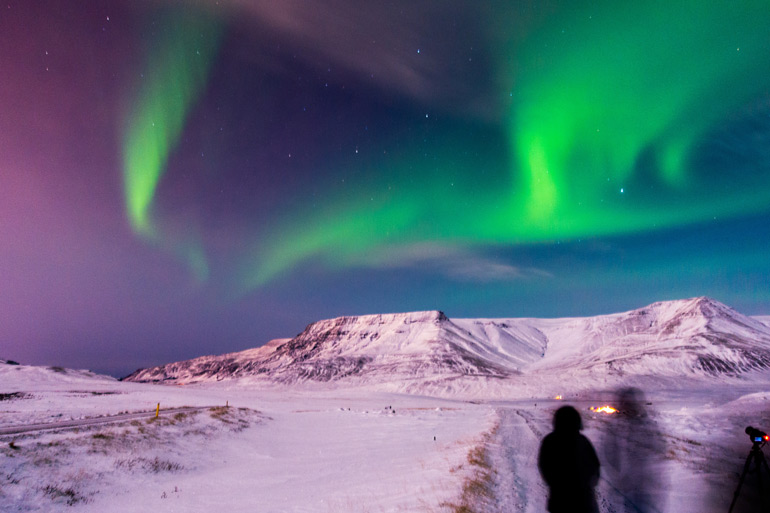 Iceland is a land of pure bliss.
The magical land is home to beautiful sceneries perfect for adventure tours. But it can be expensive for travellers on a budget.
Luckily, you can opt to stay in one of the hostels in Iceland. Most hostels are affordable and offer amenities like free parking, a lounge area, free WiFi, a bar, and more to ensure your stay is memorable.
Now that you already know where to stay, how about getting to know Iceland better? Check  out this blog for sites to see, what to carry, and things to do in Iceland.
Featured Image from: Flickr by Heather R
It isn't a VIP-exclusive venue, which means that some exceptions regarding the dress code are possible. OK, so this isn't that mind blowing- we see this ALL THE TIME. But the agent was very helpful and supportive, and it was a bit easier to explain our problem over the phone http://bestonlinecasinosincanada.org/. Live Casino FAQs Got some burning questions before you play live casino games with us?