Few countries on the planet can hold a candle to Iceland when it comes to waterfalls. Their sheer number and breathtaking beauty make the country one of the most beautiful places on earth.
Yet it's not just about the waterfalls.
Iceland's glaciers are the kind that leaves time standing frozen, its volcanoes will melt the heart, and the craggy mountains will hold you in the thrall of enchantment.
And it's not your straight-laced idea of beauty. Iceland's natural splendour borders on mystical irreverence. It's bold, it's brazen, it's unabashed.
But Iceland's famed waterfalls could be its most defining feature.
After you've seen iceland's waterfalls, many a waterfall will look like a mere trickle down a broken faucet.
While other countries boast of waterfalls in their dozens or hundreds, according to some estimates, Iceland has over 10,000 waterfalls!
Some plunge from dizzying heights into turbulent pools, while others trickle softly on enduring rocks of basalt. Then some shimmer clear and shiny like silver—and seem to gleam luminously in the sunlight with a sapphire colour that's the bluest of blue.
Let's take a look at some of Iceland's most stunning waterfalls which looking at feels like admiring a painting by Pablo Picasso.
But first, enjoy this snapshot of the Land of Fire and Ice:
One more thing…
We are not going to rank the waterfalls. That would be like picking your favourite child—it's bound to be difficult.
Let's jump in.
Goðafoss Waterfall: The Waterfall of the Gods
Shaped like a horseshoe, Goðafoss waterfall—translating to the waterfall of the gods—falls majestically from a height of 12 meters. It splashes down into a furious drop and flows out to a large, clear pool.
It offers a stunning colour contrast as the turquoise water runs above deeply black basalt rock. In the fall season, the water seems to change to a brown hue and becomes more forceful.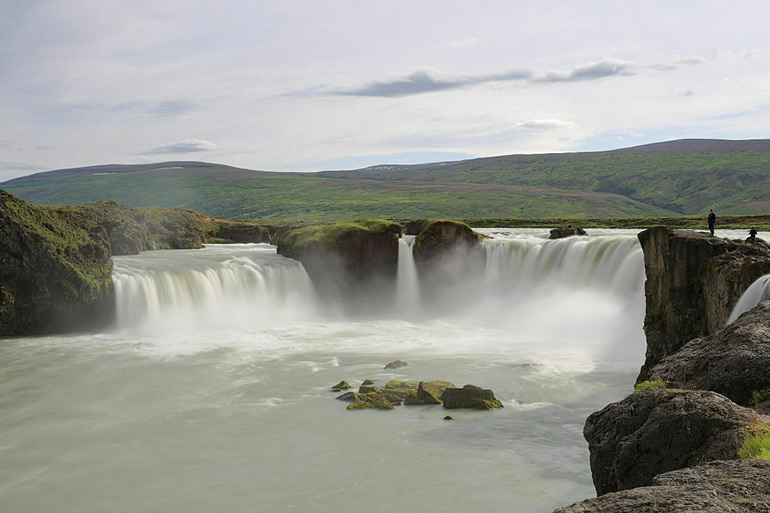 The best part is that Goðafoss waterfall is easy to access. You can reach it from Iceland's famous Rinoad and is not more than 50 km from the northern city of Akureyri.
There's a very interesting history to Goðafoss waterfall as well.
According to tradition, when a local chieftain Þorgeir Ljósvetningagoði decided to convert to Christianity, he symbolically threw his pagan idols into the falls. This reportedly marked Iceland's conversion to Christianity.
Skógafoss: A Spectacular Waterfall
One of the tallest and largest waterfalls in Iceland: This spectacular waterfall, located in Southern Iceland, has a heart-rending drop of a whopping 60 meters!
If you love the fresh, soothing colours of a rainbow, then this waterfall is a must on your travel bucket list. This is because Skógafoss waterfall has an ever-present rainbow that is especially vivid on clear, sunny days.
But unlike many other waterfalls which are a bit dangerous to walk up to, this breathtaking waterfall is relatively safe to walk up to, hence more explorable.
You could climb 370 steps to the top of the waterfall and take in the breathtaking vista of Iceland's south coast or have a close-up view of one of Iceland's most spectacular waterfalls, but you don't have to.
You can simply walk right up to this powerful waterfall to feel its mesmerizing mist or become completely drenched in its rainbow-coloured vapours—if you want.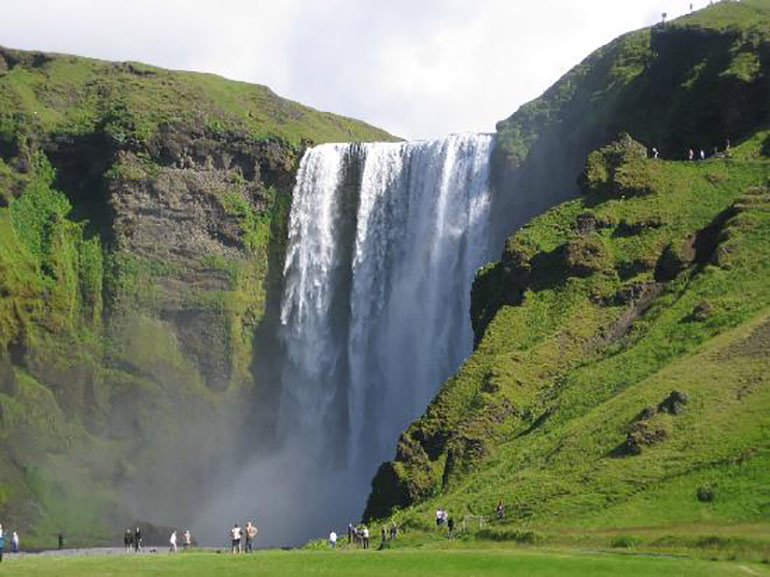 Hraunfossar: A Tapestry of Beauty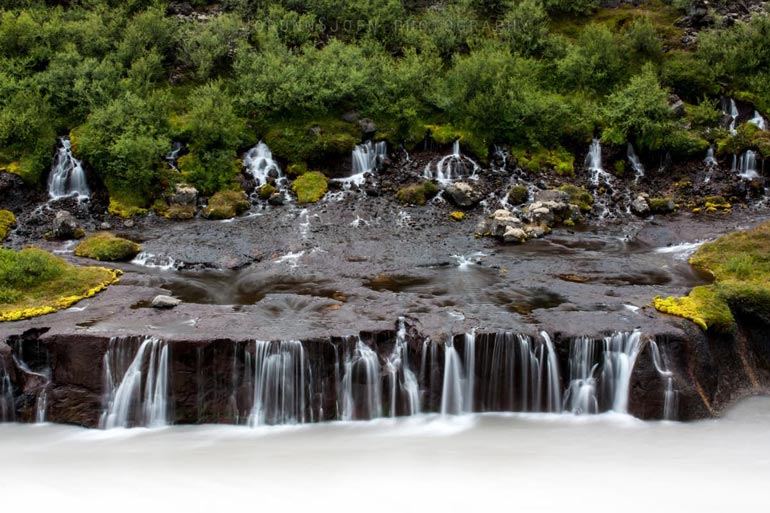 Amazingly, this gem is not just a waterfall but a series of crystal clear water beautifully cascading over creeks fashioned from underground fields of lava. The water flows into the Hvita river below.
Hraunfossar waterfall is testament to the fact that beauty is not reckoned by size or immensity. It's not the tallest waterfall, nor the most powerful waterfall in Iceland. Yet, Hraunfossar is no less beautiful and no less enchanting.
These small waterfalls are in the west side of Iceland, about 118kms from the capital Reykjavik.
Kvernufoss: A Hidden Gem
Thanks to a deep gorge in it's immediate vicinity—in the area of South Iceland where it's located—this waterfall is a hidden jewel.
Though tucked away in a secretive ravine, Kvernufoss waterfall is still very accessible. Thanks to its proximity to the Ring-Road, it's just a walking distance from it's flashier neighbour, the Skógafoss waterfall.
However, many people miss it.
If you want a waterfall that you can experience without the hordes of tourists, then Kvernufoss' majestic stillness is what you need.
It's other distinctive attraction is the fact that you can go behind it. Not many waterfalls afford that rare chance.
Like most nature lovers, you'll be able to capture stunning photos of the Kvernufoss waterfall from many unique angles and sides like the one below.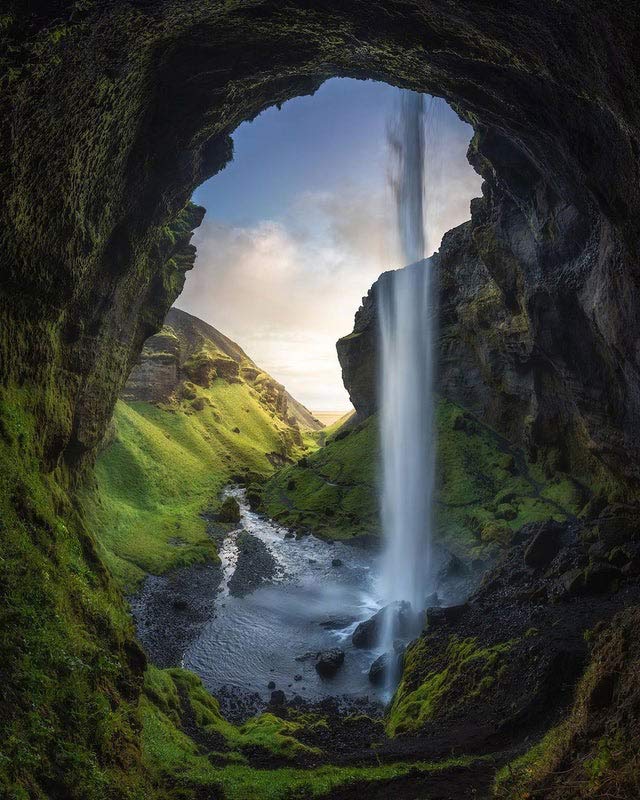 Seljalandsfoss: One of the Most Iconic Waterfalls In Iceland
There are many breathtakingly beautiful waterfalls in Iceland's south coast. Yet it would be remiss to talk about popular waterfalls in Iceland's south coast and fail to mention the iconic Seljalandsfoss.
It's probably one of the most photographed places in Iceland.
Seljalandsfoss waterfall is not the tallest waterfall in Iceland or even the most powerful. Yet many nature lovers in Iceland fervently swear by it.
But that's not to say that Seljalandsfoss waterfall is by any measure small or tiny.
It roars and plunges a massive 60 meters below, and makes for quite a sight—very impressive to behold.
However, the distinguishing feature of Seljalandsfoss waterfall is the fact that you can walk right behind it.
If you're an avid photographer, you'll know what that means.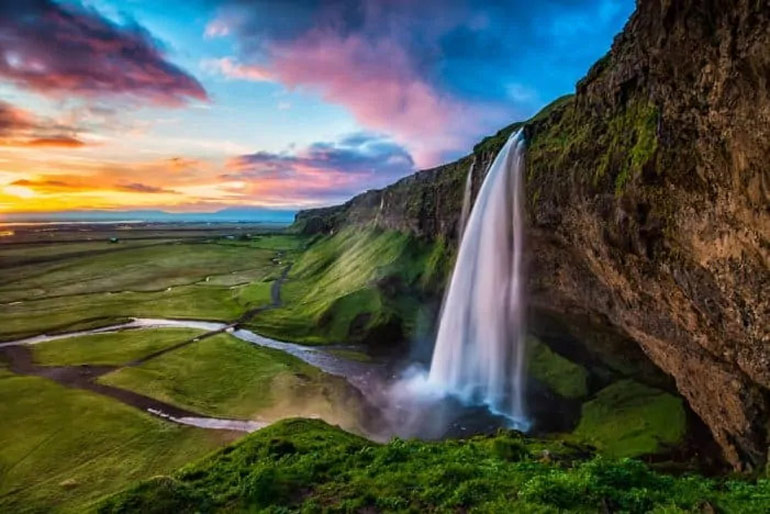 It's not for nothing that Seljalandsfoss waterfall, among all the stunning waterfalls in Iceland, owns the title of "The Beauty."
Öxarárfoss: A Beautiful Waterfall Wrought By Man's Hands
This is also one of the most stunning of Icelandic waterfalls and a favourite with the locals. Yet nature does not steal all her glory.
Icelanders diverted the course of the Oxara river then nature crowned their efforts by engineering a natural marvel deep inside the Þingvellir National Park in South Iceland.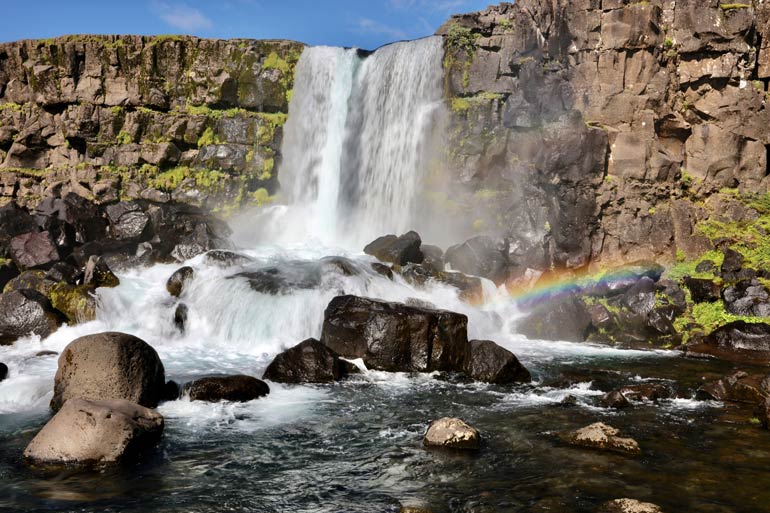 Hjalparfoss: Conjoined Twins
This magnificent waterfall resembles conjoined twins because they are two distinct waterfalls which get joined together at the base as the following figure shows.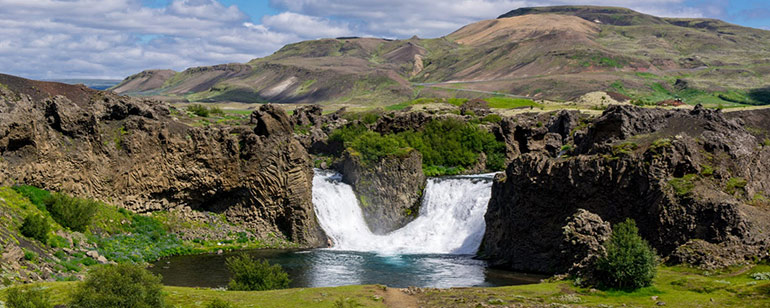 Hjalparfoss is easily accessible from both the Ring-Road and the Golden Circle. It's less than two hours drive from Reykjavik and only 30 minutes from Fludir, the local town.
Gullfoss: The Golden Waterfall
The name Gullfoss translates to "the golden waterfall".
Yet while Gullfoss may be one of the most majestic, and a favourite waterfall with many nature lovers, it's not a tall waterfall. It's certainly not the most powerful waterfall in Iceland— that title rightfully belongs to the Dettifoss waterfall.
However, when it comes to the sheer volume of water that pours down its two-step 32-meter cascading plunge, no other waterfall comes close in the whole of Europe.
But why is it called "The Golden Waterfall"?
On a crystal clear day, the waters of the Gullfoss shine almost like the color of gold. This golden hue doubtless also makes Gullfoss put to shame other waterfalls in Iceland for dazzling beauty and elegance.
Yet Iceland's iconic waterfall still has much more to offer than the golden appearance: Its volumes of water coupled with the stunning cascade is a sight to behold.
Only a physical visit can unwrap all its glory and grace.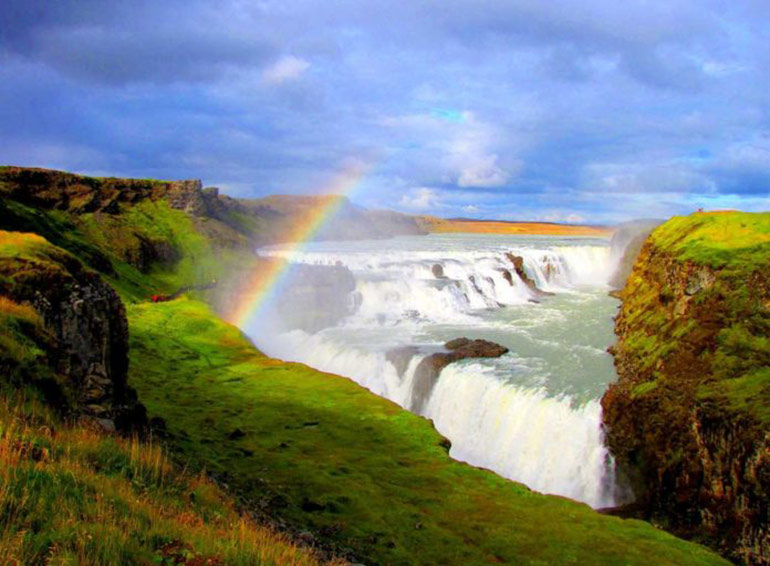 More About Iceland (Than Beautiful Waterfalls).
Iceland still boasts some jaw-dropping, majestic sights.
For something more about this tiny beauty, read The Definitive Guide to The Blue Lagoon in Iceland, and uncover the home of one of the 25 wonders of the world.
Featured Image from:Flickr by Kate Elizabeth