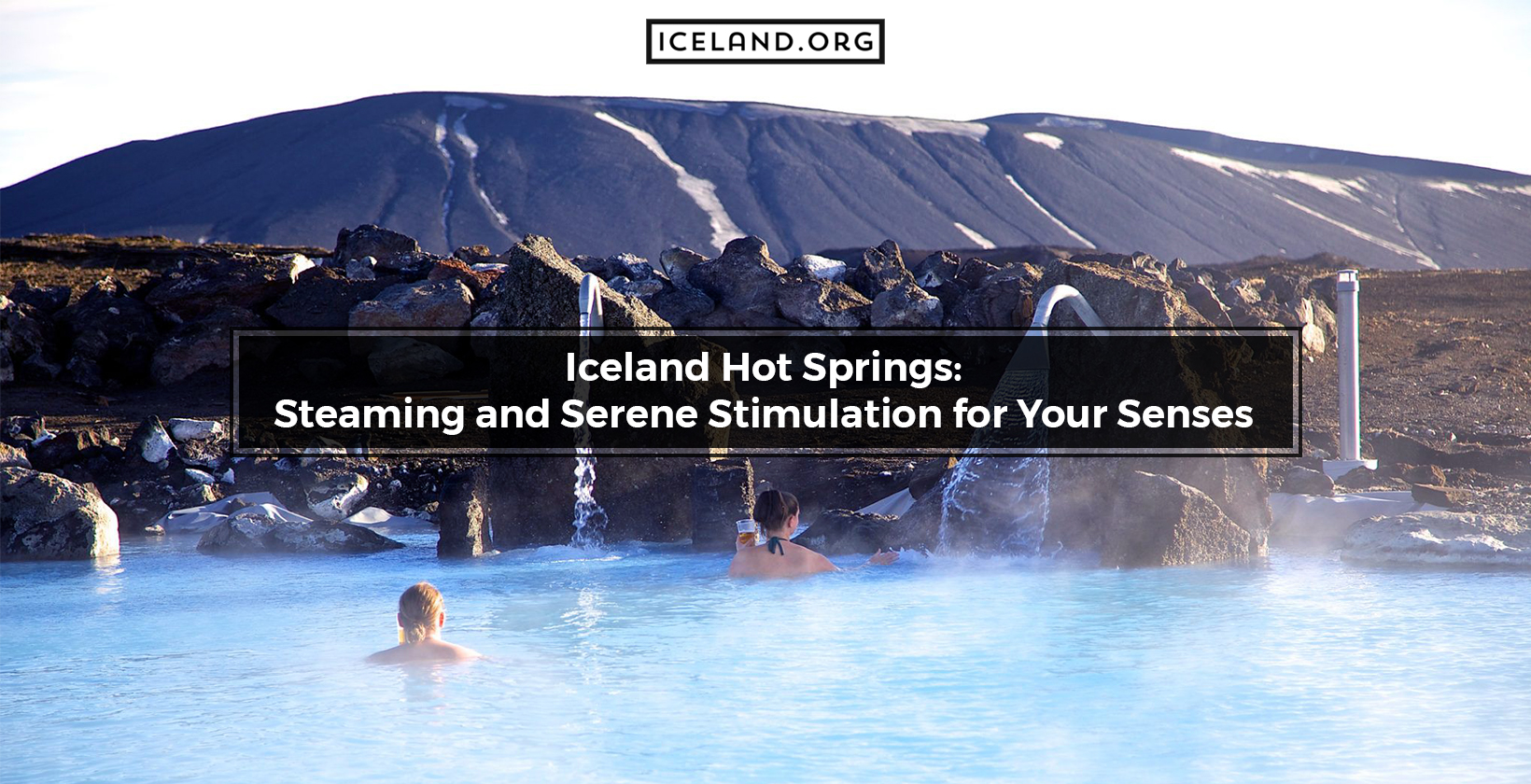 The rarest travel experiences. The dearest. The toughest. The one that won't be around forever. Hot springs of iceland are the real get-your-adrenaline-pumping adventure locations.
The land groans, hisses, and spews—perfect for injecting some Jule Verne ventures onto your bucket list. The volcanic crater that allows a unique descent into the earth's belly, the powerful hot spring, the Blue Lagoon, the Geysir Geothermal area, black sand beaches—it's a bizarre but fascinating paradise for nature-lovers.
Why Are There So Many Hot Springs in Iceland?
The island is a home of ice, fire and water.
It sits on one of the earth's hotspots— between the North American and Eurasian tectonic plates—where volcanic activity is common.
The mixture of geothermal heat, volcanoes and ice translates to plenty of waterfalls, lakes, steam baths, springs and warm water swimming pools like the Blue Lagoon.
Some of the springs are boiling fumaroles, bubbling mud pits or extremely hot spraying geysers. Some are calm pools—with the right temperature to bathe.
However, the term hot spring is a bit problematic in Iceland—people use it to mean different natural features. It might be defining a:
Warm pool
Hot tub
Geothermal lake
Swimming pools
Geysers
Iceland has numerous natural hot springs that require no entry fee. However, the free options lack facilities like a relaxation room, changing rooms, showers and bathrooms. This has led to the rise of natural springs that charge entry fees in exchange for excellent guest facilities.
Such hot pools have become the most popular and best hot springs in Iceland. People classify them as spas.
The Best 5 Spa Hot Springs in Iceland
The Blue Lagoon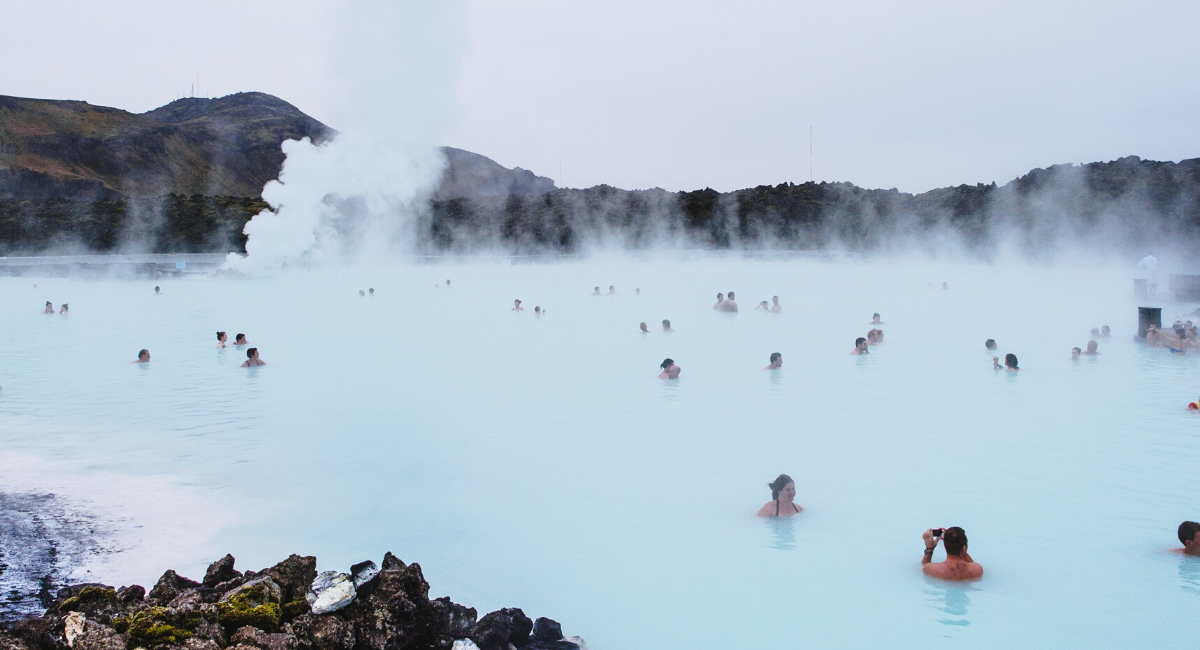 The Blue Lagoon is the world's most famous hot spring in Iceland.
Its light blue, milky waters have a perfect temperature for bathing of 38–39°C (110–102°F). Its water is entirely natural with minerals like silica and algae, which have therapeutic effects on the skin.
That's just the tip of the iceberg. Blue Lagoon has mossy green lava surrounding it, which provides an out-of-this-world bathing experience.
Originally, Blue Lagoon was a wastewater hot pool for a geothermal plant. But in 1981, it transformed into a national hit as Icelanders started bathing in the water applying the wholesome mud.
Today, the world glorifies Blue Lagoon as the most impressive spa resort in Iceland. It features several restaurants, cafes, an in-water bar, a hotel, a gift shop and a relaxing area with massage facilities.
Blue Lagoon attracts the highest entry fee of all geothermal pools in Iceland for being infamous worldwide. It sits on the Reykjanes peninsula—a 20 minutes drive from Keflavik International Airport and a 30-minute drive from Reykjavik—making it a popular first or last stop for arriving and departing guests.
Mývatn Nature Baths
The Mývatn Nature Baths is another lagoon similar in texture and colour to the Blue Lagoon. It's an option for people who crave the milky blue waters but feel like the Blue Lagoon has become a little too popular.
What appears to prevent lots of people from going to this lagoon is its distance from Reykjavik. It's a 6-hour one-way drive. Therefore, it suits people on longer journeys who plan to visit northern Iceland.
Onsite, you'll find a great shower, changing facility, sauna and a cafe where you can grab some refreshments before and after you soak. What's more, the surrounding nature is stunning. It allows you to relax in an alkaline bathing lagoon while enjoying the scenery of the beautiful nature surrounding Lake Mývatn.
The lagoon is located in the heart of North-East Iceland.
Secret Lagoon
The Secret Lagoon is Iceland's oldest—dating back to 1890—but its renovation sparks wanderlust in any nature-lover.
The pool temperature is excellent for water bathing—ranging between 38–40°C (100–104°F), just like a hot tub. The Secret Lagoon sits between the village Flúðir and the famous Golden Circle, making it a great stopover to take a dip before or after visiting the popular sightseeing route.
Right next to the lagoon are bubbling springs, steaming fumaroles and even a small geyser that erupts after every few minutes.
Fontana Geothermal Baths
The Fontana Geothermal Bath allows you to soak into the healing powers of the geothermal springs when taking the most popular tourist route while exploring Iceland. It's located at the heart of the Golden Circle Route, next to Lake Laugarvatn, about 90 minutes drive from Reykjavik.
The Laugarvatn area sits over a hot zone. Residents have been using hot underground water to heat houses, cook and bathe since 1929.
The baths entail outdoor pools that vary in temperature, depth and size.
GeoSea Sea Baths
GeoSea Sea Baths are among the newest attractions in North Iceland and are located in the town of Húsavík. What makes these geothermal baths unique is their hot seawater rather than spring water.
The geothermally heated seawater is filled with salt and has healing minerals different from those in other natural hot tubs. The water in every swimming pool of GeoSea bath doesn't require treatment because two boreholes pump through the pool to keep a constant flow.
The GeoSea Sea Baths offer stunning views over the beautiful Skjálfandi Bay—the glistening ocean and the beautiful mountain that frames it.
Top 3 Natural Hot Springs in Iceland
Apart from the modified springs like Blue Lagoon, some naturally occurring rivers and springs don't require an entry fee. In fact, locals keep some a secret to protect them from ruin.
Below are the best options that were perfectly crafted by Mother Nature. But keep in mind there are others to choose from—some more inaccessible than the others.
Landbrotalaug Hot Spring in Iceland
Landbrotalaug natural hot spring has a temperature range of 35–40°C (96–104°F), and it's barely 1.5m in diameter. Unlike the popular hot pools like the Blue Lagoon, it can barely accommodate two people.
It's well-hidden and off-the-beaten-path, making it ideal for enjoying some peace in a natural setting—far away from swarms of tourists.
The natural pool is close to all major driving routes. It's located in the Snæfellsnes peninsula, a two-hour drive from Iceland's capital, Reykjavik.
You'll require no entry fee to access this swimming pool.
Reykjadalur Valley
It's a hidden gem so epic because you'll have to hike for about 30–60 minutes to access the spring. The steamy valley has so much beauty to explore—boiling pools, hissing steam rising from several places and lots of bathing space.
The river boasts varying temperatures. The further you go into the river, the hotter it becomes. Further up is a confluence, where the river meets with a colder one.
Geothermal Footbath in Reykjavik
Unlike other geothermal baths, this is a place to enjoy a warm footbath in northern Iceland. It's small but has stunning views of Mount Esja, and sometimes you can even see the Snæfellsjökull glacier far away to the west.
Other Non-Hot-Spring Explorations to Do in Iceland
Geothermal pool exploration is the top-rated tourism activity in Iceland—with the Blue Lagoon being the top tourist spot.
However, Iceland is a Nordic nation with a landscape full of volcanoes and virtually impossible-to-ignore tourist attractions. For instance, you can:
Visit the black sand beaches
You can do a lot of tourist activities in Iceland. The island is a collection of glorious geomorphology—small but deeply riven with deep gullies, volcanic-after effect, gulches and swept with semi-winter lushness.
Read more about tourism in Iceland:
Featured Image from: Flickr by Roderick Eime